8 Ways to Raise Money for a New Business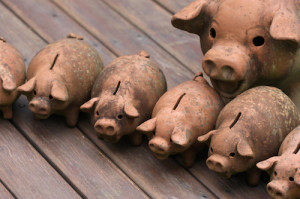 One of the questions that I seem to get asked more than any other with regard to the small
business startup process is, "How do I raise the necessary money to get my business off the ground?" The short answer to this question is that raising funds is a long and grueling process, and it's the process that gets in the way of most entrepreneurs when they are just beginning their small business journey. Raising money is confusing, frustrating, and challenging. While there are plenty of options for entrepreneurs looking to gain a little investment capital, it can be difficult to choose which option is right for your specific business.
If you're interested in some great suggestions for raising money for a new business, check out this article I recently came across at Entrepreneur.com. The Entrepreneur website is filled with real, helpful information. I have come up with my own list of some of the most effective and efficient ways to generate investment capital. Here's my list of eight ways to raise money for an upstart business.
Take Out a Business Loan
First, I'll mention the simplest and most straightforward of the money-generating techniques: the small business loan. Loans are often vilified as death traps for small business owners. There are risks associated with taking out any kind of loan, but these risks can be mitigated and effectively managed with a little preparation. The simple truth is that a small business loan is one of the easiest ways to get a substantial amount of cash in your pocket in a short period of time. You don't have to worry about contacting multiple investors, begging your loved ones for an investment, or managing a crowd-sourcing project.
You can find out whether or not you are approved for a small business loan in a matter of minutes. Before you head off to the nearest bank, it's important to do some number crunching. Effective financial projections for your small business will accomplish two basic goals. First, financial projections will increase your chances for securing a loan that will help you start your small business. Second, financial projections and profit estimates will give you a basic understanding of how much money you can afford to borrow. It's easy to drown in debt by borrowing an unfeasible amount of money; however, when you have high quality financial projections in your hand, you'll be less likely to fall into this common borrowing trap.
Open a Line of Business Credit
Similar to the process of taking out a small business loan, opening a line of business credit is a way to raise some business capital, which you can use to invest in products and supplies, start your production more quickly, and even secure some premises for your business. Many entrepreneurs are scared to death of opening lines of credit simply because they've heard horror stories of massive interest rates and exorbitant minimum payments. Like with the business loan, though, I want to emphasize that these extremes don't have to be the norm for your situation.
You can open up a small line of credit and keep your interest rate and monthly payment levels quite low by making on-time payments and borrowing only what you can afford to pay back in a reasonable amount of time. A debt repayment schedule and some projections for your small business will help keep you in the black as often as possible.
Ask for Assistance from Family and Friends
Many entrepreneurs get their big break from generous family members and friends. If you borrow money from people you know, of course, it's important to never take advantage of their generosity. Think of friends and family members like real investors in your business. Pay back the loan in the promised amount of time, and never borrow more than you can afford to pay back.
Find Some Venture Capital Investors
If you want to avoid the issues that can crop up from borrowing money from friends and family members, you may be able to generate cash flow by connecting with venture capitalists and other investors who will take an interest in your business and the potential for profits. A popular television show on ABC, Shark Tank, provides an interesting window into the process of securing investment capital. Contestants on the show, each with a great idea and a plan for generating profit through a product or service, pitch their ideas to a panel of wealthy investors. The investors listen to the pitch and provide a pitch of their own, generally consisting of a cash amount they are willing to front in exchange for a percentage of the business profits. Realize, though, that with this strategy you are accepting a one-time investment in exchange for a lifetime of profit sharing.
Use Crowdsourcing to Generate Cash Flow
Crowdsourcing is relatively new to the investment capital stage, but it is proving itself to be a very effective method of generating money for an upstart business. Rob Thomas, for example, recently used the crowdsourcing platform Kickstarter to generate over $4 million for his Veronica Mars movie project. With crowdsourcing, an idea is pitched to anyone and everyone who's interested. People who feel they can benefit from a business's existence, its products, its services, or an offered perk may partially fund the project.
Sell Unneeded Items
Never forget the worthiness of a good, old fashioned garage sale. You can sell unneeded or unwanted items online via marketplaces like eBay, or find interested buyers in your general area. Selling the things you have laying around the house is a great way to generate money for your business.
Fund a Business with Another Business
Some entrepreneurs leverage the profits achieved through one business to fund the endeavors of another business. For example, if you have a successful freelance writing gig on the side or are making money selling homemade crafts online, you can dedicate the profits from these endeavors to a new entrepreneurial pursuit.
Lease Your Business Equipment Instead of Buying
Finally, you may be able to generate some passive income by leasing business equipment rather than buying it. Money saved, after all, is money in your pocket. When you pay a small monthly fee for big ticket items, you can save money by avoiding the cost of purchasing equipment outright.
These eight strategies are excellent ways to generate income for a small business, and with a lot of hard effort and a little determination, you will quickly have the cash you need to get your business off the ground.
If you liked this article, please add your comments below or share it with your network. Thanks, again, for all your incredible support!