10 Ways to Increase Monthly Revenue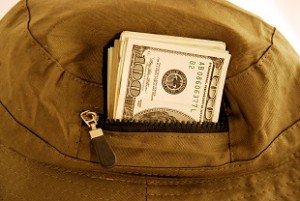 What could you do with a little extra revenue each month? You're probably thinking of a hundred different ways in which that money could be put to good use. An extra few hundred dollars each month can lighten the burden of your business expenses, or pay for gas, or even allow you to invest in a new business venture.
A lot of people experience budget crunching when the end of the month starts approaching. Spending amongst consumers is much freer in the early days of the month than it is at the end of each month. If you could generate a little extra revenue you could use this money to make the last days of the month a little easier and less constraining. There are thousands of opportunities, both online and in the real world, that you can use to generate a little extra revenue. Some of these strategies are fairly straightforward while others are a little more creative. For example, CNN.com recently featured an article by Rachel Zupek, a writer at Career Builder, about ten creative ways to earn a little extra revenue each month.
Here are ten strategies you can use to start increasing that revenue stream each month. What you do with that income is, of course, up to you.
Teach a Class
If you have knowledge or a skill, you might be able to make a little extra money each month by teaching a class. Community colleges often have guest lecturers that teach classes on money management, cooking, crafting, woodworking, fitness, communication, and just about any other life skill you can think of. You may not even have to have college degree to teach one of these classes as long as you can show your expertise in the field and convince the community college that you are able to offer high quality education. If you can't land a gig at a community college, consider offering a class at your community center or municipal center. You can post sign-up sheets advertising your class and your personal experience and allow people to register for your class.
Market Your Skills as a Coaching Service
If you know a lot about the business world, you might be able to market your skills as a coaching service. Business coaches are in incredibly high demand these days as more and more business professionals are searching for a mentor or advisor to help them navigate the tricky waters of business. You can create a well-designed and professional looking website and advertise varying levels of business advice and coaching at different prices. You can even complete business coaching over an Internet connection, so there's no reason to travel!
Land Gigs as a Keynote Speaker
If you're a great communicator and you have something of value to say, you might be able to get paid gigs as a keynote speaker. Public speakers who are entertaining, knowledgeable, and authoritative are always in high demand at business events, workshops, and public forums.
Work as a Freelance Writer
You can make several hundred dollars each month by working as a freelance writer. Freelance writing websites like Elance, oDesk, and Textbroker connect writers with clients who need articles for content marketing purposes, web content for landing pages, and press releases to advertise new products and services.
Sell Things You Don't Need
You can make some extra money each month simply by selling things around your house that you no longer need or use. Websites like eBay allow others to bid on your items, or you can post classified ads on a website like Craigslist.
Start a Meal Planning Business
Do you love to cook? Do you have a collection of tried and tested recipes that are guaranteed to please? Do you have great organizational skills? You might be able to market these services and present yourself as a meal planner for busy parents, families, and working professionals.
Design a Business Logo
If you have a knack for good design, businesses might be willing to pay beaucoup bucks for your services. A high quality logo is hard to come by for many businesses, and yet a high quality logo can accomplish incredible things in a business's future. You can use online design forums and freelancing websites, like Elance, to advertise your design services and find clients who may be willing to pay between $50 and $500 for a single logo!
Offer IT Services
If you are good with computers, software, and servers, you can make extra money each month by offering IT services to local businesses. Setting up a phone system, an e-mail system, and even inter-office communication systems is a service for which businesses will pay. If you know how to debug systems, check for viruses, and install protection, you can charge even more.
Complete Surveys Online
Companies performing market research often pay consumers to take surveys for them. You can find survey-taking websites online that will pay you a few dollars for every survey that you successfully complete. The more surveys you take, the more money you will make.
Create a Popular Blog
A popular blog is an incredibly effective way to generate some extra income each month. With this strategy, you'll have to invest some time and money before you start seeing any profitable income from your blog. Once you've developed a blog that is read consistently by a large population of consumers, you can contact affiliate marketers and arrange for paid advertisements to be displayed on your blog.
These ten strategies will help you generate a little extra, helpful income at the end of each month. Imagine what you can accomplish with even $300 extra dollars!
What other strategies for generating extra income have you used with success in the past? Share your suggestions with our followers below. If you liked this article, please share it with your network, and thanks for your support!